CMMC 2.0: What DOD contractors need to know
ARTICLE | November 11, 2021
Authored by RSM US LLP
On Nov. 4, 2021, the Department of Defense (DOD) announced a major update to the Cybersecurity Maturity Model Certification (CMMC) program, the DOD's attempt to mitigate its supply chain cybersecurity risks. The modified program requirements, coined "CMMC 2.0," aims to enhance the cybersecurity stance of the defense industrial base (DIB) against evolving threats while streamlining the CMMC model and focusing on flexible implementation for organizations of all sizes.
There are five primary goals of the CMMC 2.0 program structure:
Safeguard sensitive information to enable and protect war fighters.
Dynamically enhance DIB cybersecurity to meet evolving threats.
Ensure accountability while minimizing barriers to compliance with DOD requirements.
Contribute toward instilling a collaborative culture of cybersecurity and cyber resilience.
Maintain public trust through high professional and ethical standards.
As your organization waits for the final implementation of CMMC 2.0's updates, based on the rulemaking process within Title 32 (related to national defense regulations) and Title 48 (related to government procurement efforts) of the Code of Federal Regulations (CF), there are a number changes to be aware of so your organization can be prepared.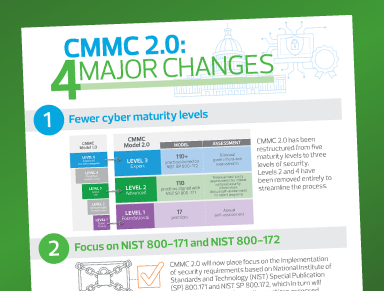 What has changed for CMMC requirements?
The three key program-level changes from CMMC 1.0 to CMMC 2.0 focus on fewer security tiers, new defined requirements and a flexible implementation method. The goal is to identify and mitigate cyberthreats and break down any barriers to full compliance with DOD requirements. However, as you expand the details associated with those program-level changes, the following operational insights become evident, as published by the DOD as of Nov. 4, 2021:
CMMC 2.0 has been restructured from five maturity levels to three levels of security. Levels 2 and 4 have been removed entirely to streamline the process.
Level 1 (now called foundational) will allow organizations to demonstrate compliance through self-assessments. In addition, the newly restructured level 2 (advanced) will have bifurcated compliance expectations of both the self-assessment and independent certification requirements, based on the sensitivity of controlled unclassified information (CUI).
The new level 3 (expert) assessments will be executed by the government on a triannual basis.
CMMC 2.0 will now place focus on the implementation of security requirements based on National Institute of Standards and Technology (NIST) Special Publication (SP) 800.171 and NIST SP 800.172, which will reduce the number of security practices assessed.
Under certain limited circumstances, CMMC 2.0 will now allow companies to make plans of action and milestones (POA&Ms) or allow waivers to achieve certification, despite maintaining known compliance gaps.
Understanding new CMMC levels
Level 1
Level 1, the foundational level, now enables organizations to demonstrate compliance through annual self-assessments. With just 17 key practices, this allows for lower-risk organizations to achieve an affordable path to CMMC 2.0 compliance.
Level 2
Level 2 (formerly level 3) is CMMC 2.0's advanced level, geared toward organizations handling CUI. Contractors now must comply with 110 practices (rather than the additional 20 practices previously added to the framework). Contractors that hold "critical national security information" are required to leverage CMMC third-party assessment organizations (C3PAOs) for triannual assessments, while a select set of programs will allow for annual self-assessments.
Level 3
Level 3 (formerly level 5) will require more than 110 practices, based on NIST SP 800-171 standards. Additional requirements will be based on NIST SP 800-172 Enhanced Security Requirements for Protecting CUI. This means 35 new enhanced security requirements may be added across existing domains. Additionally, level 3 will now be reviewed through government-led triannual assessments.
How does this affect my business?
While change is constant as cybersecurity threats continue to evolve, organizations must maintain their adaptability to respond quickly when necessary. These minor changes are more distinctions rather than drastic differences. There is a significant shift in language and process, but little change to the expectations on businesses.
If you work with the DOD, your organization is still required to design and implement a cybersecurity program aligned to NIST 800-171 during this transition period. It is crucial to leverage experienced industry advisors such as RSM to ensure your eligibility to bid on future DOD contracts that will require CMMC in the not-too-distant future. The timeline is the interesting point, as it will take 9?24 months, based on the DOD estimate, to fully implement CMMC 2.0 and see the mandatory requirement appear in all solicitations. That said, early adoption is strongly encouraged says Deputy Assistant Secretary of Defense for Industrial Policy Jesse Salazar.
While your organization may be one of the lucky few that handles data types that will allow you to self-attest, currently there is no guidance on which data types will qualify for self-assessment. In a critical development, the new Department of Justice (DOJ) Civil Cyber-Fraud Initiative gives the DOJ the ability to pursue false claims and press charges against federal contractors who are not aligned to NIST SP 800-171 and not following their federal contractual agreements.
While the CMMC Authorization Board (CMMC-AB) is aggressively looking for qualified third-party assessors to meet assessment demand, your organization should seek professional assistance now to ensure proactive cybersecurity risk management and alignment to the DOD's expectations.
Should I still use a third-party assessor?
Third-party assessors provide an unbiased perspective on your environment and support your business's ability to define an effective and efficient road map to progress toward CMMC compliance. Third-party assessors are often some the most knowledgeable and agile parties involved in the DOD's requirements and guidance. Third-party assessors like RSM are intimately familiar with the NIST SP 800-171 requirements and the variety of strategies businesses just like yours can use to meet these requirements in a timely, cost-effective manner.
At RSM, we work with organizations like yours every single day. We know what it takes to create and maintain a mature cybersecurity program, and we know how to translate that practice into CMMC certification.
So, what should I do next?
In order to prepare for CMMC 2.0, consider the following simplified next steps:
Create a contract inventory to determine which contracts include the Defense Federal Acquisition Regulation Supplement (DFARS) 252.204-7012 clause and identify when contract recompletes are pending.
Identify the flow of CUI and the covered contractor information systems, including third-party subcontractors.
Conduct a gap assessment against NIST SP 800-171 requirements.
Develop a POA&M road map to facilitate the remediation of any identified gaps.
Be prepared to submit your NIST SP 800-171 score and expected POA&M completion date to the Supplier Performance Risk System (SPRS) database upon request.
Remediate your gaps and update your SPRS submission as your organization's cybersecurity posture improves, at least on an annual basis.
Maintain an effective cybersecurity risk and compliance management program.
Let's Talk!
Call us at (800) 624-2400 or fill out the form below and we'll contact you to discuss your specific situation.
RSM US Alliance provides its members with access to resources of RSM US LLP. RSM US Alliance member firms are separate and independent businesses and legal entities that are responsible for their own acts and omissions, and each is separate and independent from RSM US LLP. RSM US LLP is the U.S. member firm of RSM International, a global network of independent audit, tax, and consulting firms. Members of RSM US Alliance have access to RSM International resources through RSM US LLP but are not member firms of RSM International. Visit rsmus.com/about us for more information regarding RSM US LLP and RSM International. The RSM logo is used under license by RSM US LLP. RSM US Alliance products and services are proprietary to RSM US LLP.
Weinlander Fitzhugh is a proud member of the RSM US Alliance, a premier affiliation of independent accounting and consulting firms in the United States. RSM US Alliance provides our firm with access to resources of RSM US LLP, the leading provider of audit, tax and consulting services focused on the middle market. RSM US LLP is a licensed CPA firm and the U.S. member of RSM International, a global network of independent audit, tax and consulting firms with more than 43,000 people in over 120 countries.
Our membership in RSM US Alliance has elevated our capabilities in the marketplace, helping to differentiate our firm from the competition while allowing us to maintain our independence and entrepreneurial culture. We have access to a valuable peer network of like-sized firms as well as a broad range of tools, expertise and technical resources.
For more information on how Weinlander Fitzhugh can assist you, please call (989) 893-5577.